Currently there is no way to import your firefox favorites and feeds into IE7, and from what I have heard there is no plan on adding this into IE7. So with this in mind, I made this application so that developers or anyone who needs to use their firefox bookmarks in IE7 can do so easily.
All you have to do is run the application and if you have firefox installed it will automatically find your bookmarks, or you can browse for your exported firefox "bookmarks.html" file.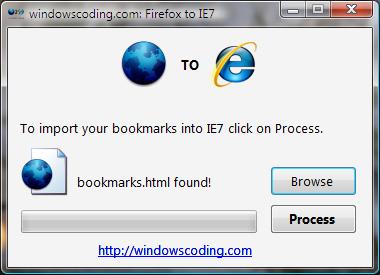 After you have found the bookmark file that you wish to import into IE7, click Process and your bookmarks have been successfully imported.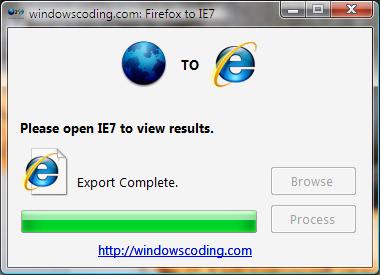 Please refer to the readme.txt for already known bugs.
Download
Please note that you will no longer need a 3rd party file extractor as all downloads are now in zip format.
Minimum Requirements
Firefox installed, or a firefox exported bookmarks.html file.
Join the mailing list
Get notified of new posts and related content to your inbox. I will never sell you anything and I will NEVER sell your email address.